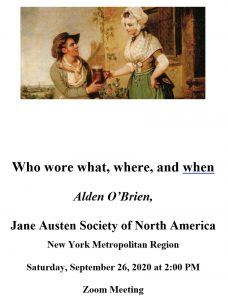 Jane Austen wrote some memorable opening lines. We invite you to write an opening line or lines — no more than three, please — for a  novel she never wrote.
 The responses from thirteen of the fifteen groups: (the numbers do not correspond to the group numbers)
One group submitted three:
a) The fortunes of the Manwaring family rest anxiously on his sickbed.
b) Happiness lies in with a cup of tea and a good book.
c) The pleasures of being at home are only spoiled by the entire family staying home and no one being able to leave. [Tabrizia Jones et al]
It's a truth universally acknowledged that the mute button on a long zoom call with Mr. Collins is a lifesaver, thought Elizabeth.   [Marion Davies et al]
Every lady can be assumed to welcome a proposal of marriage, even if it be from a man who possesses neither breeding, wealth nor sense.
[Janet, Alden, Ann et al]
London, in Wickham and Lydia's flat.
Lydia: If only you were a success and we had the freedom of a manor like Darcy and Elizabeth during this cholera epidemic!
Wickham: If you say that one more time I'm going to strangle you!
Lydia: Of all the suitors I could have chosen, I had to choose YOU!
[Linda Pedro, Jane Axelrod, et al]
When Mary opened a letter from her sister in London in July 1816, she paused for a moment, taking her seat at the writing desk by the window.  It was early that morning that the servant had brought in the letter.  She'd heard rumors that a mysterious illness had struck London.  Here too in Alton, the streets were empty, devoid of life, as the townspeople feared falling prey to the contagion.
[Susan Allen Ford et al]
To those observing them from the other boxes at Covent Garden Theatre, Marianne Dashwood, enthusiastic and exuberant, seemed a very odd match for staid Colonel Brandon. [Jen Malet, Phyllis Michaels, Brenda Cox]
William Collins was a man who never said no—or yes, but always maybe. He surpassed every expectation. He applied to ten or twenty clubs and found that he was rejected by all. [Kim Wilson]
Mrs. Harris had come to the conclusion that the choice of the bonnet was indicative of a lady's countenance on any particular occasion.
[Jenna Bergstraesser]
It was the best of times, two young men of fortune in the neighborhood. It was the worst of times, for them, as there were no unmarried ladies to go around. So they left the neighborhood.
Jane Austen Juvenilia draft   [Catherine Nettesheim ]
"How distressing!" exclaimed Mrs. Altenay as she opened the trunk that her new maid had packed without her supervision. [Betti Barrows]
Having had a tumultuous childhood, she forged ahead to her destiny.
[Marilyn Rumph]
If there were ever a stranger personality than Miss Grewer, we have never seen one. [Barbara Day Sort et al]
It is a truth few acknowledge today that a single woman in possession of a good fortune does not need a husband. She can purchase all the male attention she desires. [June Shapiro, Elizabeth Cognata, Meg Levin, et al.]
Seven long years had passed since he married for wealth and now his rich wife was dead.   The new widower, Sidney Parker, planned to return to Sanditon to visit his brother.  Perhaps he would ask off-handedly of news of the Heywood family and hope to discover that Charlotte Heywood was still "Miss Heywood". [Irene Jankowski Spennicchia]
-Meg Levin