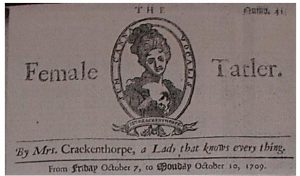 On March 19, 2022, the JASNA NY Metro Region held an all-day virtual conference exploring "Jane Austen's Scandalous Era."  Janine Barchas, Ph.D., started us off with a lively lecture on the infamous real-life Dashwood family. Sir Francis Dashwood presided over the shocking goings-on at the Hellfire Club held on the grounds of his estate at Wycombe Park, with its notorious erotic statuary and landscaping.  Dr. Barchas is the author of Matters of Fact in Jane Austen: History, Location, and Celebrity, and The Lost Books of Jane Austen.
Next up was Elizabeth Veisz, Ph.D., on "Gothic Scandal in the Periodical Press" Dr. Veisz's spoke about the Lady's Monthly Museum. It was an example of the "sensational" periodicals that were often read by young women who craved Gothic tales. In particular, she focused on the short story "Schabraco,". Using his villainous deeds as an example, she explains how these Gothic stories balanced didacticism with entertainment. Dr. Veisz is Associate Professor and Chair of the Dept. of English at Bridgewater State University and a frequent contributor to Persuasions.
The afternoon brought us historian Amanda Foreman, author of the bestselling Georgiana, Duchess of Devonshire.  Ms. Foreman's talk on "The Georgians: A True Age of Sexual Discovery" covered the loosening of morals in the inner circle of a wealthy, aristocratic society. She touched on vices such as gambling and drug use that often-brought ruin to families. Ms. Foreman also spoke about the Duchess's role in pollical life, her role as a style icon, her difficult marriage, and the lives of other women in her circle.  Ms. Foreman's forthcoming book is The World Made by Women: A History of Women from the Apple to the Pill.
Our last speaker of the day was Alden O'Brien. JASNA members know her as the Curator of Costume and Textiles at the DAR Museum in Washington, DC, and a frequent presenter at local and national JASNA events.  Ms. O'Brien spoke about the "Shocking Fashion" of the Georgian era.  Influenced by French fashion, female styles in Britain and the USA changed at the end of the 18th century. Women's clothing shifted from cinched bodices with corsets and wide skirts to the looser, more flowy cuts and lighter fabrics of the high-waisted chemise. Although the more risqué sheer versions of these dresses are often associated with the times, it was a style adopted by a minority and did not last long.
-Michele Kling and Patricia Maniscalo