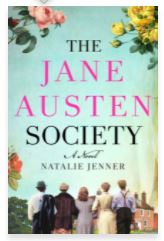 The Jane Austen Society, by Natalie Jenner is a charming way to spend a few days with several pots of tea and accompanying shortbread biscuits. Though it is historical fiction and bears no connection with the actual creation of JASNA, this is a well-written creative tale that allows the reader to share in discussions of Jane's books.
Each character here has a favorite character or novel. These works are very real and very important to Jenner's characters, who have heartfelt reactions to works we all love- most of the time. The reader finds themselves agreeing or disagreeing- often cheering on a character who supports a quietly held belief– but always with a smile.
There is romance, tension, and an occasional upward mobile character. There are also enough Jane related details to pull the reader in: her turquoise ring, the crosses belonging to Jane and Cassandra, and an overlooked and longed-for letter. The author creates a world for Jane that is represented in the places where Jane lived, while appealing to new and old fans alike. Thus, this is a testament to the universality of Jane's appeal.
The book is a fast read. It is also a reminder that the world that Jane knew and the world we live in today have both changed dramatically while staying the same.
-Frances Schulz